Excavating & Grading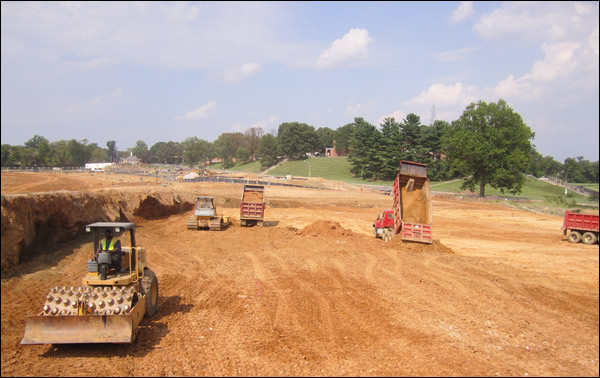 EXPERTISE
A job well done starts from the ground up. At Monumental, we have the skills the people and the equipment to handle the full range of excavation and grading jobs.

Among the services we offer are:

- Mass Grading

- Excavation for Foundation and Retaining Walls

- Gabions

- Pre-Landscaping

- Roadside Grading and Site Improvements

EXPERIENCE

One recent project which put all our services to the test was Uplands Redevelopment where Monumental served as the general contractor. The scope of work for this 62 acre project included removal and recycling of 30,000 cy of existing concrete & asphalt, 300,000 cy of mass grading, 22,700 cy of rock excavation, extensive erosion & sediment control, 7 cast-in-place concrete retaining walls & 1 modular retaining wall, 12,000 If of sanitary sewer with 60 manholes, 9,400 If of storm drain with 114 manholes & 135 inlets, 9,200 If of water main & 6,300 If of copper water services, 30,000 If of conduit duct bank with 52 electrical manholes, 3,400 If of curb & gutter, 83,900 sf of sidewalk, 65,200 sy of stone sub-base for roads, 15,600 tons of asphalt paving, and storm water management structures consisting of 3 earthen basins and 24 porous concrete green alleys.